David Bittner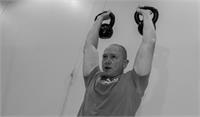 Nationally Certified and N.J. State licensed massage therapist, Certified Personal Trainer, Certified TRX group fitness instructor, Certified Kettlebell instructor. As a 2001 graduate of the Somerset School of Massage Therapy and co-founder of Yoga M.A.T.T., Dave has been practicing massage therapy for over 14 years and is highly trained in several different styles of massage. Swedish, Sports, Myofascial Release, Neuromuscular Therapy, Reflexology, Pre-Natal, Thai Yoga Massage and several other spa treatments. He is a member of the American Massage Therapy Association of America, Certified nationally by the National Certification Board of Therapeutic Massage & Bodywork, licensed by NJ board of Nursing & Office of the Attorney General.
His passion is sports massage and working with athletes to keep their bodies tuned up and performing at optimum levels. He also specializes in rehabilitative massage to assist athletes and everyday active people in their recovery process. Dave enjoys being able to make a difference in his clients lives either by assisting them through massage to help heal their bodies or by teaching & empowering them with the ability to obtain the physical fitness goals and results they desire.
Dave has been the massage therapist for the Rutgers football team since 2001, Rutgers women's basketball team since 2004 and worked with seven of the New York Giants during their superbowl season in 2008. Dave has also worked with professional athletes that are currently on over 15 different NFL teams as well as Olympic athletes and amateur/weekend warrior athletes. In addition, he is highly regarded amongst high school athletes and plays a strong role in their recovery process from injuries.
Dave is a certified personal trainer, group fitness instructor and amateur competitive bodybuilder. He is certified through A.C.E. as a personal trainer, through KBC as a Kettlebell instructor & through Fitness Anywhere as a TRX group fitness instructor.
David Bittner instructs the following:
This fusion based class focuses on core exercises utilizing the TRX, kettlebells, Dynamax balls, slam bells and other functional training equipment to challenge and increase core strength and stability. This fast paced class will strengthen all major core muscle groups as well as build cardiovascular endurance.




This is a high intensity, fast paced workout which targets arms and core exclusively. TRX, Rip Trainer, kettlebells and resistance bands are utilized to develop biceps, triceps & abdominal /core muscles. No kettlebell experience required.




An intermediate to advanced workout designed to sculpt and tone your entire body. This class targets all major muscle groups through various kettlebell movements. Designed for participants with previous kettlebell experience.




This fast paced class is designed to sculpt and create lean muscle in the lower region body parts including legs, glutes and hips through the use of TRX, kettlebells, plyometric and metabolic exercise. This class also includes core strengthening exercises as well as movements to build cardiovascular endurance. Kettlebell experience not required.




A high intensity, low impact class designed to elevate your heart rate, increase your metabolism and burn fat through various isometrical and plyometrical exercises.. A fusion designed class utilizing jump ropes, sand bells, resistance bands, gliders and light weights to increase cardiovascular endurance while developing lean muscle. Be prepared to sweat and burn fat away!!!




A full body TRX workout targeting all major muscle groups. This workout focuses on number of repetitions per exercise. Equal time is spent on upper body, lower body & core to help build lean muscle and core strength.




An intermediate to advanced workout designed for experienced fitness enthusiasts physically conditioned. An intense full body workout integrating Rip Trainer and kettlebell exercises. This class will build strength and stability in the core as well as increase your cardiovascular endurance. No Rip Trainer experience required, kettlebell experience is necessary.