Nancy Leonard-Fischer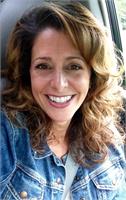 Nancy is a warm and supportive teacher that leads from her heart and loves to laugh from down deep in her core. She is passionate about living every day to the fullest. Yoga has taught her the value in being fully present in the moment and appreciating the beauty in all that is around you. She has dedicated over 10 years to practicing yoga and is fully committed to balancing a daily yoga and meditation practice along with her lifelong passion for long distance running. Nancy received her 200 Hour Yoga Alliance teaching certificate from Onyx Yoga Studio. She is grateful to many teachers that have inspired her along this journey and will always be present in her teachings, these teachers have taught her the value of alignment, spirituality, laughter and the pure joy that comes from paying it forward and watching your student's succeed. She is grateful to her family for their support along this journey.
Nancy Leonard-Fischer instructs the following:
A multi level class practiced in a slightly heated room. This class will flow continuously into various yoga poses from Sun Salutations. Introduction to intermediate level back bending, twisting and inversions. The class will end with deep stretching to release muscles and aid in recovery. Challenge both your mind & body and create a sense of achievement in your practice. Recommended for clients who have a practice of at least 6 months.

Please bring a towel and water to class!!!