Christine Beckelman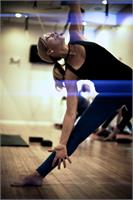 Christine, the co-creator of Yoga M.A.T.T., has been practicing various types of yoga for over 10 years. She completed her 200 hour training certification at Om Yoga in New York City. Her certification is recognized through Yoga Alliance. She also completed a 60 hour Yin Yoga teacher training program with Corrina Brenner, owner of Wake up Yoga, in New York. Her interest in yoga developed out of a desire to gain strength and flexibility. However, she quickly discovered the benefits of yoga were much deeper than a physical practice. She enjoys teaching various types of classes and incorporates a variety of deep stretches in all of her class types. Her classes strongly focus on proper alignment and form.
Christine enjoys an active lifestyle that includes weight lifting, running and tennis. As a result, her classes are a blend of movement that create flexibility, strength and core awareness.
Her vision for Yoga M.A.T.T. was to create a studio that integrates both functional training, yoga and massage. She strongly believes that this fusion based training is what allows clients of all ages to live and maintain a healthy and active lifestyle.
Christine is also certified in TRX Group Training through Fitness Anywhere and Kettlebell certified through KBC. She recently has been certified in TRX Sports Medicine and works with clients recovering from minor sport related injuries. Christine is CPR trained through American Red Cross. She is a graduate of Fordham University and received both a B.A. in Communications and an M.B.A. in Business.
Christine Beckelman instructs the following:
A multi level class practiced in a slightly heated room. This class will flow continuously into various yoga poses from Sun Salutations. Introduction to intermediate level back bending, twisting and inversions. The class will end with deep stretching to release muscles and aid in recovery. Challenge both your mind & body and create a sense of achievement in your practice. Recommended for clients who have a practice of at least 6 months.

Please bring a towel and water to class!!!




A multi level class focusing on creating long lean muscles through various TRX and kettlebell exercises. This class will focus on strengthing the core through functional training techniques utilizing slam bells, Dynamax balls and plyometric exercises.





This class is a perfect introduction for beginners, clients recovering from injuries and those looking to increase their flexibility in muscle groups and range of motion in large joint groups. Strong focus will be on the hip, lower back, hamstring and shoulder areas. Participants will also be introduced to breath awareness exercises to help them get deeper into each stretch.

Open and beneficial to all levels.




A multi level vinyasa class perfect for those looking to build their practice. This class will flow through poses intended to build strength and stability while increasing mobility and flexibility. This class will also focus on alignment and building a strong foundation needed to advance your practice.




A barre class fusing interval cardio training with the traditional elements of a barre class including strength training, ballet bar techniques and weight bearing exercises.

This multi level class will focus on building integral core strength needed to perform all functional training movements.

Sticky socks are required for this class and are available for purchase at the studio.




A therapeutic deep stretch class geared toward creating greater flexibility and joint mobility by targeting those areas tightened by overuse and stress. This class is the perfect warm up before any TRX class and acts as a recovery class for those looking to restore over used muscles. Open & beneficial to all levels.




A full body work out designed to build muscular strength and cardio endurance through low intensity training. The majority of exercises will be performed on TRX straps and with the use of resistance bands.

This multi level class is perfect for clients new to functional training, with injuries and/or returning from injuries and for those looking to train in a low impact environment.




A 60 minute class taught in a moderately heated room designed to build core strength, increase range of motion and stability in joints and provide a deep stretch to major muscle groups.

This class will be formatted into a 3 part sequence. Beginning with a bridge series, transitioning into a plank "flow" series and then eding with a deep stretch to relieve soreness and aid in recovery.

Yoga experience is not required.