Donnalyn Cucurullo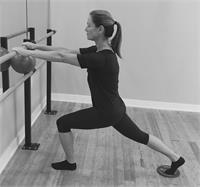 Donnalyn has been attending fitness classes at Yoga M.A.T.T since 2011. After experiencing her own physical transformation, Donnalyn was inspired to become a fitness instructor so she could help others do the same, regardless of age, training experience or fitness level.
Donnalyn began teaching in 2014 and is currently a Certified TRX®, Kettlebell and Barre Instructor. She enjoys teaching at Yoga M.A.T.T. because its intimate class sizes allow her to provide individual instruction during class, if needed.
Donnalyn Cucurullo instructs the following:
A barre class fusing interval cardio training with the traditional elements of a barre class including strength training, ballet bar techniques and weight bearing exercises.

This multi level class will focus on building integral core strength needed to perform all functional training movements.

Sticky socks are required for this class and are available for purchase at the studio.